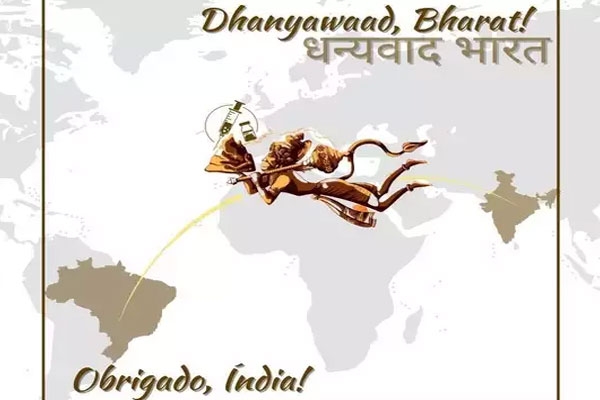 (Image source from: static.langimg.com)
India has dispatched over two million doses of the COVID-19 vaccine to Brazil on Friday. The President of Brazil Bolsonaro cosigned an agreement for India to send vaccines and has heartfully thanked the Prime Minister Modi for the 'Sanjeevni Booti'.
The flight carrying the two million doses made in India landed in Brazil on Saturday.Along with the President, Brazilian Ambassador Andre Aranha Correa do Logo has also thanked India for the vaccine supply.
The President posted a tweet of Hanuman carrying a mountain carrying the Sanjeevani plant as a metaphor for Modi sending the vaccines to Brazil. He also thanked India and said he was very grateful for their service.
Modi also responded to the tweet saying he is honored to help out the country and that both Brazil and India can fight the vaccine together.
The vaccines made in India are developed by AstraZeneca and Oxford University and manufactured by Serum Institute of India.
Over the last couple of days India has supplied the COVID-19 vaccines to other neighbouring countries including Bhutan, Maldives, Nepal, Myanmar and Bangladesh. The vaccines were sent through special Indian's aircraft to other provinces including Seychelles, Mauritius and Myanmar.
Other countries that will reportedly get the Indian made vaccine include Saudi Arabia, South Africa, Morocco, Bangladesh and Myanmar.
Followed by the United States, Brazil is the country with the second highest corona-virus patients in the world. Among the 212 million inhabitants there have been 2,14,000 deaths.
There have been 8.7 million COVID-19 cases and 7.67 million have recovered. There have been 214 thousand deaths.
By Meena Atmakuri