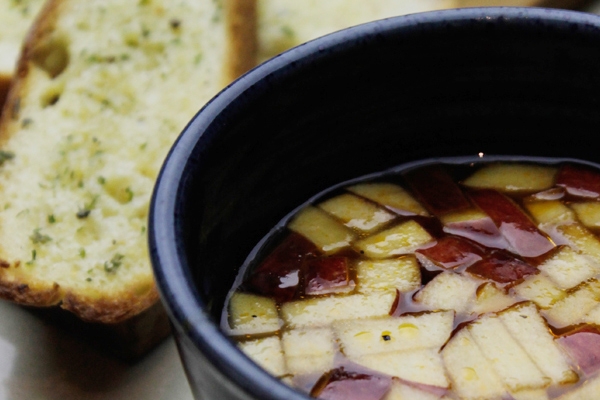 Apples are the rich source of  antioxidants, flavanoids, and dietary fiber. Including apple in your diet may help reduce the risk of developing cancer, hypertension, diabetes, and heart disease. Here is an interesting, easy and healthy soup recipe. It is prepared with apple and tomato juice.
Preparation: 15 minutes
Cooking: 20 - 25 minutes
Servings: 4 portions
Ingredients:
3 cups tomato juice
2 cup apple juice
1 table spoon chopped fresh basil
1 slit and deseeded green chilli
Few drops of truffle oil
1 tablespoon extra virgin olive oil
½ cup fresh apple chunks
Salt to taste
Crushed black pepper to taste
Preparation method:
Take a pan and put it on medium heat.
Add extra virgin olive oil to it.
Add the green chilli and chopped basil to it and saute well.
Once all the flavor of the green chilli and basil is infused in oil add the tomato juice and cook well.
When the tomato juice is reduced to half of the original quantity then add the apple juice.
Cook for five more minutes. Adjust seasoning.
Garnish with the fresh chunks of apple and few drops of truffle oil.
Serve hot.
Also Read: Cucumber Raita - Kheere Ki Raita
Nandini