Durga Puja 2017 - WCBA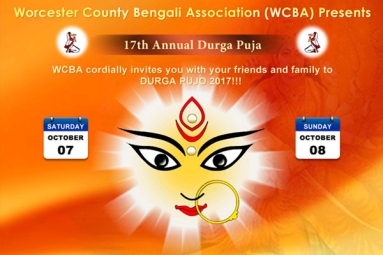 About this Event
Durga Puja 2017 - WCBA
Worcester County Bengali Association (WCBA) will celebrate Durga Puja on October 7th and 8th at Our Lady of Mt. Carmel, Worcester MA.
Durga Puja is a momentous festival where families come from all over the place to pray for the well-being of everyone. They also get a chance to meet old friends, make many new friends and enjoy the auspicious festival which is comprised of profoundly divine Puja, attractive cultural programs including our signature item "Bangla Natok" and, of course, our most favorite offering "delicious food". To enable this, WCBA strives hard to provide you with a heartfelt welcoming environment where you will be drawn in close to feel that it is your own Puja, and find the occasion a never to be forgotten experience absolutely filled with warmth and fellow feelings. As always, we extend our sincere invitation for you to join us during this year's Durga Puja in Worcester. We will eagerly wait to receive you with a warm welcome!.
Our featured artists this year are renowned bengali singers Lognojita Chakrabory & Gaurab Sarkar, who will be peforming on the 7th of October. In addition, on October 8th, Band Kaya will be performing for us along with 2 Zee Sa Re Ga Ma Pa singers.
Enjoy this pujo with us and have a great time!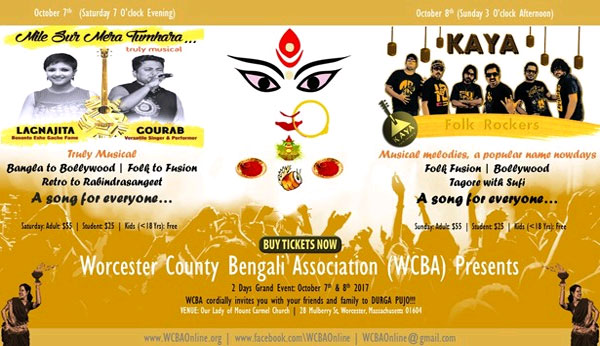 EVENT TITLE & ADDRESS
STARTS FROM
LHS Field,
Worthen Rd,
Lexington, MA 02421

Pilgrim Congregational Church,
55 Coolidge Avenue,
Lexington, MA 02420

natick high school auditorium,
15 West Street,
Natick, MA 01760

MV Freedom,
60 Rowes Wharf,
Boston, MA 02110